Sale!
Wilds of Eldraine Collector Booster Box (12 Packs)
Each Wilds of Eldraine Collector Booster Box contains 12 collector boosters (180 cards). Each collector booster pack contains 15 cards and 1 foil token. Get this if you want to take a shortcut to the coolest cards in this magical multiverse, featuring nothing but the best — foils, rares, showcase frames, extended art, and more.
Out of stock
Add To Wishlist
Compare
Description
Hot and fresh out of the oven, this batch of Collector Boosters is a feast fit for a royal! Along with the guaranteed Rares, Traditional Foils, and Extended-Art card, your booster ingredients may include a dash of anime-inspired Enchanting Tales cards to spice things up. Compliments to the chef; your deck has never looked this good at the table. This Wilds of Eldraine Collector Booster Box contains 12 Wilds of Eldraine Collector Boosters. Each Collector Booster contains 15 Magic: The Gathering cards and 1 Traditional Foil double-sided token, with a combination of 5 cards of rarity Rare or higher, 5 Uncommon, 4 Common, and 1 Full-Art Showcase Land cards. Every pack contains a total of 10–12 Traditional Foil cards. A special Confetti Foil Enchanting Tales card can be found in 2% of Collector Boosters.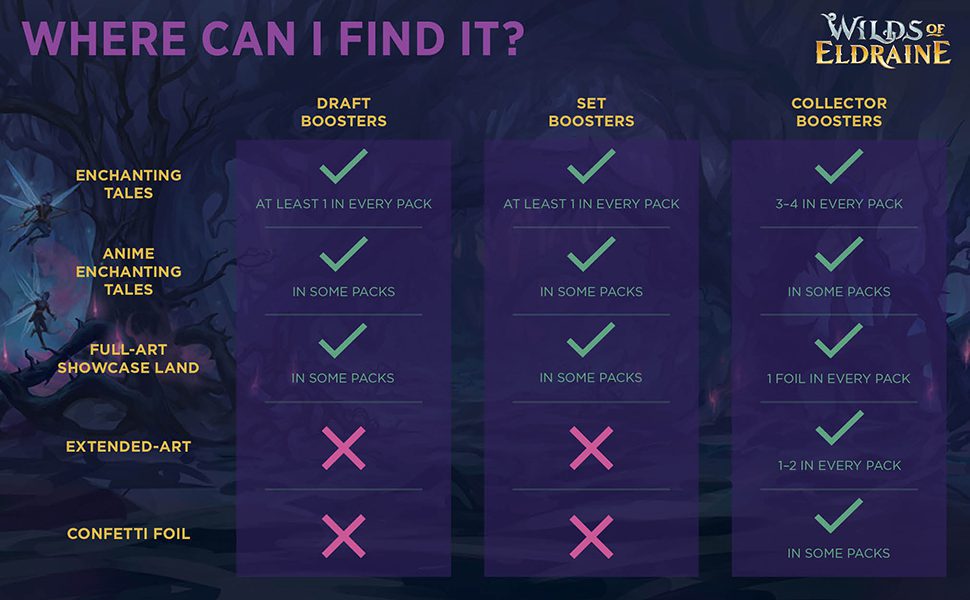 A TALE ONLY YOU CAN TELL—Venture into the untamed Wilds of Eldraine, a fairy tale-inspired world in the Magic multiverse, and free the kingdom from a curse of endless slumber.

BEST BOOSTERS FOR COLLECTORS—Collector Boosters are a shortcut to the coolest cards in a set, with packs full of Rare cards, shiny foil cards, and special alt-art, alt-frame cards

BEWITCHING BORDERLESS CARDS—Every Collector Booster contains at least 3 Enchanting Tales cards with alt-art that looks right out of a storybook; you may even find some with special anime-inspired art

EXCLUSIVE SPECIAL TREATMENTS—Found only in Collector Boosters, every pack contains at least 1 Extended-Art card and may even contain a special Confetti Foil Enchanting Tales card

PLAY A GAME THAT FUSES ART, STORIES & STRATEGY—Magic: The Gathering is a collectible card game that weaves deep strategy with art and mechanics that explore the themes of a particular world and story—whether you want to play a casual game with friends, collect cool cards, or get competitive, Magic welcomes you to The Gathering